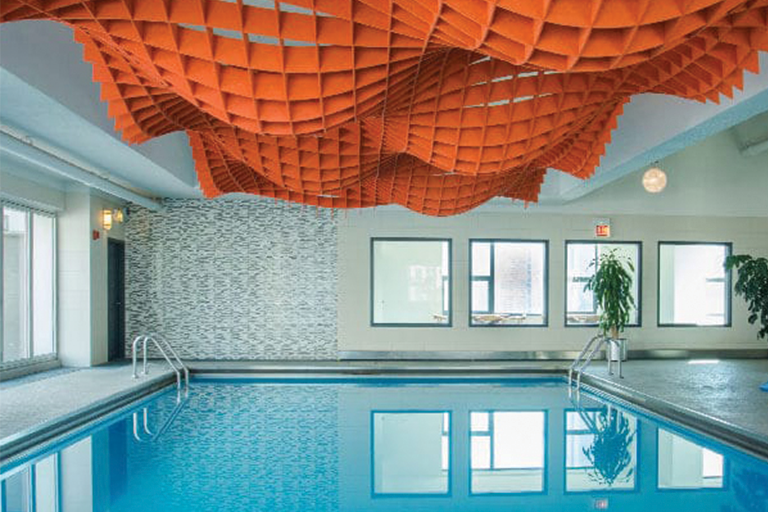 One of the major trends in corporate construction is the open office. Many employees in one room drives collaboration, synergy and morale. People like being around people. An unintended consequence is often higher noise levels. This has elevated acoustics to the forefront of today's space design.
Kenmark Interiors offers many solutions to solve today's acoustical challenge. We offer a full line of acoustical panels, baffles, clouds and ceiling tiles; all ASTM E84 tested Class A-1 non-flammable including:
Ultra High-Impact rigid 6-7lb density fiberglass panels with no added formaldehyde and hardened edges that resist warping and damage.
Our 100% Polyester panels offer superior acoustical absorption and strength, and are available in an array of colors or custom imprints. Strong and easy to clean for the harshest environments.
Bring us your design concepts and challenges. Kenmark Interiors acoustical panels are flexible, decorative, tackable, sound dampening, recycled and incredibly easy to install. Ideal for office partitions, desk screens, workstation tiles, tackboards and wall panels
Architects and designers rely on Kenmark Interiors for acoustical design solutions with assurance that every product will meet or exceed their expectations for quality and value. We like to think that our premium products are only a part of our success, and that our commitment to meeting customers' needs makes all the difference.