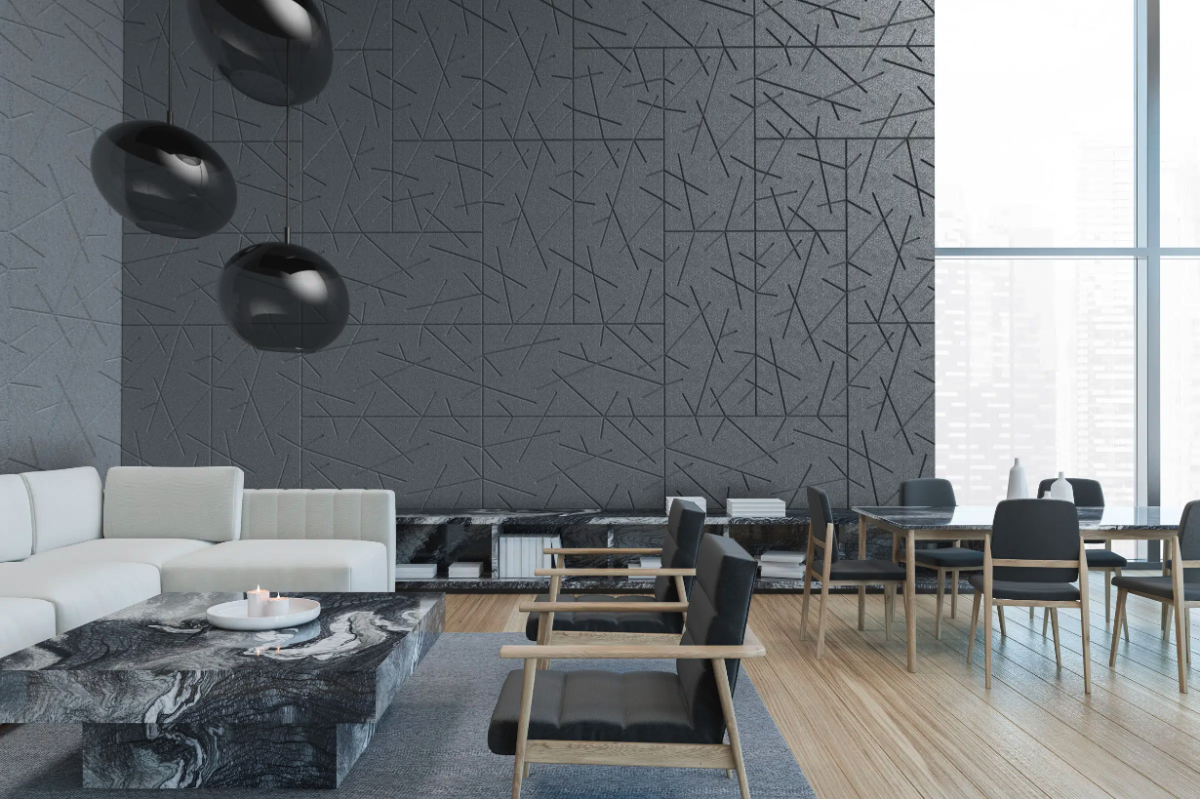 When people hear the word "health," its antithesis, "illness," often comes to mind. But health is more than the absence of illness. The United Nations defines health as "a state of complete physical, mental and social well-being and not merely the absence of disease or infirmity." Design elements can have profound impacts on health – especially with respect to physical health.
Noise Pollution
Noise pollution, also referred to as sound pollution or environmental noise, is sound that is unwanted or disturbing and affects both health and well-being. In office environments, unwanted noise can lead to increased distractions and stress and decreased creativity and focus, which can affect your bottom line.
Acoustical Solutions
Being proactive in your building planning is a sound decision. To help absorb or diffuse sound to improve the acoustic quality of your space, Kenmark Interiors recommends incorporating acoustic treatments into your designs from the start. Acoustical solutions can be used to mitigate noise and reduce the reverberation and echo in a space.
We offer a full line of acoustical panels, baffles (including acoustic felt tiles), clouds, and ceiling tiles; almost all are ASTM E84 tested Class A-1 non-flammable. Kenmark's acoustical panels are flexible, decorative, tackable, sound dampening, recycled, and incredibly easy to install, making them practical for office partitions, desk screens, workstation tiles, tackboards, and wall panels. From natural moss to prefabricated wood panels, you can naturally find a solution to bring your design concept to life with our extensive line of decorative acoustic wall panels.
ASI Architectural
To help our clients address their acoustical challenges, Kenmark Interiors works hard to establish strong relationships with vendors and supplies across North America. One of our trusted suppliers is ASI Architectural: the industry's foremost expert on soundproofing, acoustics, noise control and vibration control. ASI Architectural was recently featured in an article on gb&d about acoustic products and designing for sound in green buildings. Take a read and discover the practicality and beauty of their innovative architectural panels.
As the leading source for custom, innovative, and sustainable finishes, you can be confident Kenmark's acoustical treatments are always a sound choice. Whether you are looking to create privacy in an office, a comfortable event space, or simply reduce noise levels in noisy interiors, Kenmark Interiors' acoustical solutions can help you create a healthier environment for employees and customers alike. Contact us today to get started on your next stunning design concept or challenge.
Acoustical Solutions, Healthier Design