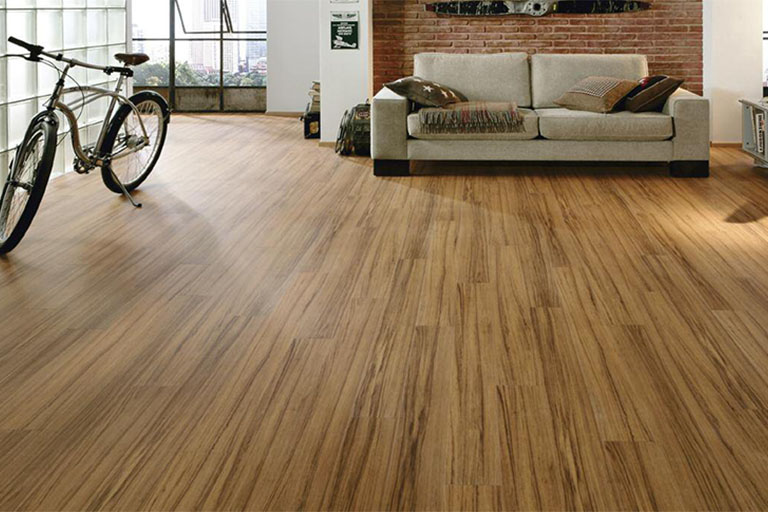 Laminate flooring is one of the most popular flooring options on the market today. Are you surprised, though? As an economical, hypoallergenic, and easy-care option, laminate is hard to beat. Designers and Contractors alike can find all sorts of reasons to love this material, but to really appreciate the impact laminate has on a space, let's take a deeper look into this genius product.
Debuted in 1977, this revolutionary product was brought onto the architectural scene by Swedish company, Pergo. First being sold in Europe, it was seen as a luxurious, yet affordable, new option in housing accessories when it began being sold Stateside in 1984. But wait, this product has a few tricks up its sleeve!
As a master of disguise, Laminate is actually made using several layers of material, topped off with a high-quality picture of whatever flooring it is meant to imitate. That's right! If the flooring can be photographed, chances are a laminate version is available. Most often laminate simulates wood or stone flooring, and as our photo-technology has improved so has the look and quality of laminate flooring!
With laminate, the best of both worlds collides– The looks of storied hardwood, with the ease of care and economic cost of faux flooring. It's no wonder we find this product making itself at home in so many of our spaces.
At Kenmark Interiors, we are proud of our extensive collection of laminate, as well as our line of real wood products. So whatever your project, budget, or space needs, we can be your trusted partner in bringing your vision to life!
Did you Know… Laminate Flooring is More than Just a Pretty Look