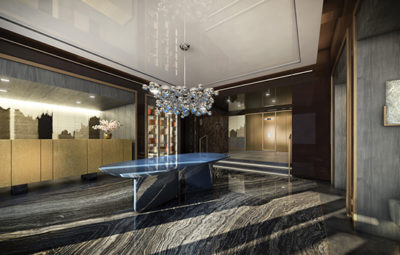 The impact that flooring has on a residential or commercial space is undeniable. Flooring will not only define the aesthetic of a space, but it also has the ability to make a room feel warm or cold, soft or hard, modern or vintage, and the list goes on. The floor you select tells a story and will inform every other element of your interior. More than just the aesthetics of a space, flooring will directly impact your behavior through acoustics and textures. Your flooring reflects the purpose or functionality of the room and the people who will be using it.
At Kenmark Interiors, we are committed to excellence at the highest level to assure incomparable value for our clients in every aspect of every project. We offer a variety of flooring solutions that are tailored to the aesthetic and functionality of your residential or commercial space. Our thoughtful selection of high-performing products ensures each is environmentally conscientious and sustainable and offers product transparency. We are not a cookie-cutter solution. At Kenmark Interiors, our flooring product collection of innovative solutions allows us to create a perfect one-of-a-kind space targeting your specific outcomes.
Keep reading to learn more about how Kenmark Interiors can work with you to collaborate on your design and reinvent a space through innovative flooring solutions. Contact a member of our experienced and dedicated team to learn more.
Environmentally Conscientious Flooring Solutions

As mentioned above, Kenmark Interiors is committed to providing sustainable, environmentally conscientious flooring solutions. We offer a variety of options for those looking to reduce their environmental impact, including cork flooring.
Cork is a completely renewable resource harvested as bark from living cork trees, never harmed by the harvest. Our cork flooring is composed of 100% post-industrial recycled content from wine-stopper production. Cork trees store carbon to regenerate their bark, and a harvested cork tree absorbs up to five times more than one that isn't. Comprised of millions of air-filled cells, cork absorbs sound, impacts, stays warm, and always remains resilient.
To learn more about our sustainable flooring options, contact a member of our team today!
Innovative Flooring Products and Approach

Every space is unique, with specific needs, challenges, and opportunities, which is why we believe in custom service and innovative solutions. We know that every residential or commercial space will be used differently and that the flooring that is selected must complement the larger purpose of the space. For example, you don't want a cold concrete floor in a daycare facility; or carpet in your public restroom.
Kenmark is pleased to offer a collection of innovative products for your review. One of our favorites is our technically advanced, low-maintenance, never wax resilient sheet flooring made with a patented ceramic surface that is as hard as stone, scratch resistant, and stronger than conventional sheet vinyl. Constructed with an infection control antimicrobial Nano Silver makes it the ideal flooring for schools and hospitals.
To learn more about our catalog of innovative flooring solutions, contact us today!
Flooring Product transparency and why it matters

Kenmark Interiors is committed to providing our customers with the highest quality products and services. We also believe that transparency is critical to maintaining customer trust. That's why we want to share some important information about our flooring products.
We use a variety of materials in our flooring products, including wood, bamboo, cork, vinyl, and more. We're always looking for new ways to improve our products and create even more sustainable options for our customers.
One of the most important things to consider when choosing flooring products is the environmental impact. We're proud to say that our products have a low environmental impact and are made from sustainable materials.
We also believe in the importance of disclosing all of the ingredients in our products. We want our customers to know what they're receiving when they purchase our products.
We hope this information is helpful and it gives you a better understanding of our commitment to sustainability, innovation, and transparency. If you have any questions, please don't hesitate to contact us.
Kenmark Interior's Innovative Flooring Solutions