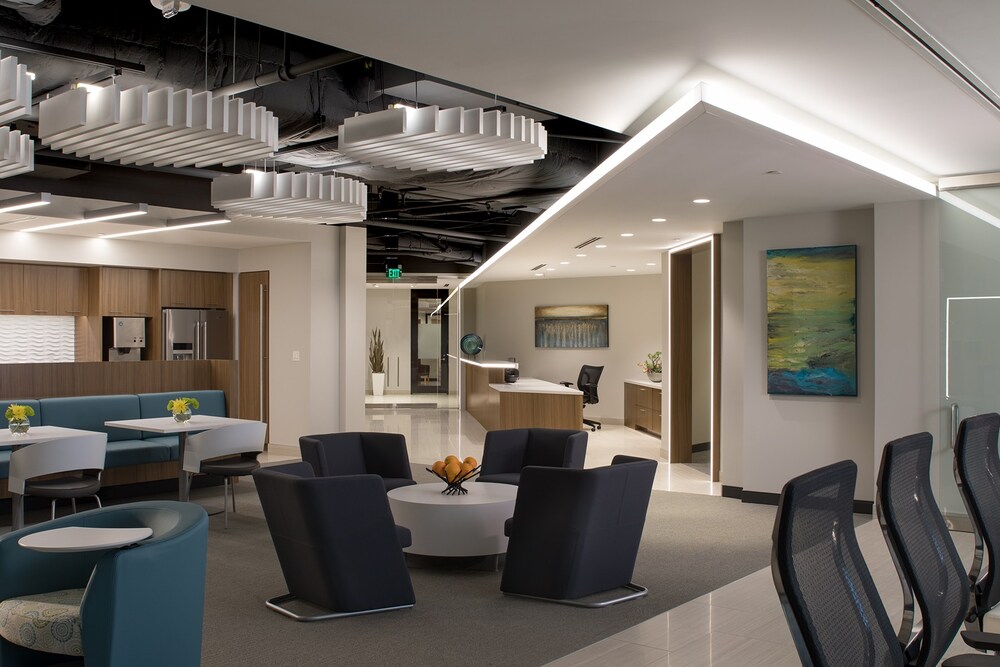 When Androvett Legal Media & Marketing, a direct marketing company in Dallas, Texas, was looking to christen its new Uptown office with an interior designed to impress, it was time to go all out. Wanting to create a unique experience for their clients, the designers at Interprise working on the project knew where to go to get the one-of-a-kind products to create the atmosphere they were looking for — Kenmark. And, we were ready with a wider perspective and product line that could make their vision a reality, without blowing up the budget.
Androvett was daring enough to go for a groundbreaking design utilizing uniquely shaped OWA Acoustic tiles. The end result is a blend of functionality and a progressive, modern aesthetic created by every trapezoidal panel and light we installed. The ceiling of the suite entry area is the first of its kind in the entire state of Texas.
Now, the Androvett office is a space infused with perfectly balanced acoustics and an originality ready to inspire anyone who walks through the door. This is just another example of Kenmark's inspired execution bringing inspired designs to life. Since 1983, we've been working with Architects, Designers, and Contractors from design inception to final installation and beyond. Always delivering exceptional service, expertise knowledge and efficient execution, trust your next project to Kenmark.
Not Your Grandma's Ceiling Tiles