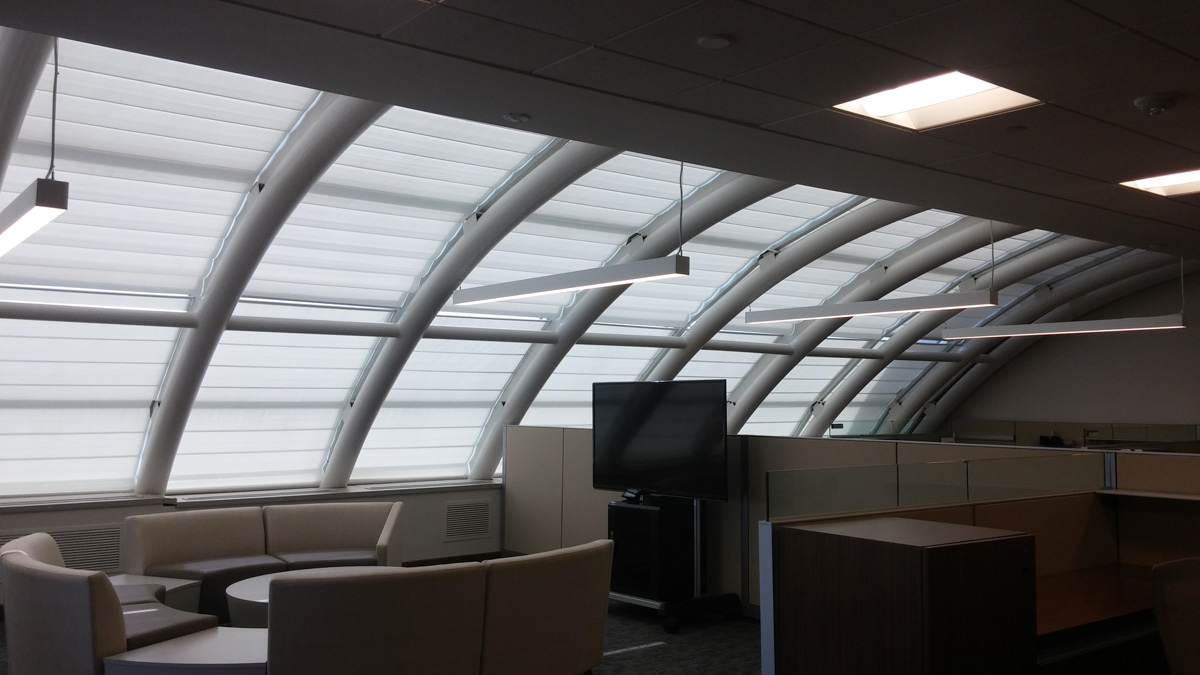 Skylights are a sought after architectural feature— natural light brings warmth to a space that is hard to replicate, plus it helps lighting expenses. But what about when that beautiful light creates an uncomfortable environment because of glare or higher than desired interior temperature? The answer is to have control over the light with a shading system— Easy enough right? That is, until you have an arched skylight on the 51st floor of a high-rise.
This is the exact scenario we were faced with when the design team for Southcross Energy came to us needing a daylight harvesting solution. Our expert product specialist constructed a plan to custom-install our Lutron Automatic shades with Lutron's Hyperion solar-adaptive software so that the shades were "smart" enough to raise and lower themselves to create the perfect indoor environment— All it took was a little insight and carefully placed sensors and programming.
Yet, our most significant challenge stared us right in the face: gravity. With your typical flat skylight a motorized shade requires only one motor and gravity takes care of moving the shade down. But with a curved surface, we needed to design a system with motors both on the top and the bottom of the system to carry the shade each direction. This is where our experience, expertise and technical minds came into play. We were able to custom fabricate and install the motor and still keep the aesthetic the designers had imagined, producing a space that was both stylish, comfortable and efficient.
You see, our team works with Architects, Designers, and Contractors from design inception to final installation delivering exceptional service, expertise knowledge and inspired execution. Let us help you realize your next vision.