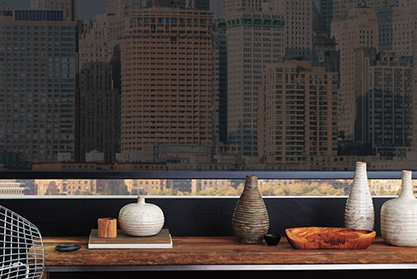 With more than two decades of experience designing and installing custom window treatment systems, Kenmark Interiors has the expertise and capability to support your motorized window treatment process from start to finish. We have experience across applications including corporate campuses, executive suites, luxury high-rises, private residences, healthcare, university classrooms, and libraries. The Kenmark Interiors team proudly offers our clients support from project inception to completion. Our services include design assistance, budget preparation, shop drawings, and manufacturer certified installation and services.
The Benefits of Motorized Window Treatments

Motorized roller shades ensure that your space is harnessing the power of natural light in the most effective manner possible. Motorized roller shades not only shade or brighten your space, but also mediate the impact on occupants through solar heat gain and glare reduction, controlling the heating and cooling efficiency of your space. Motorized window treatments also provide privacy when required and impact the acoustics of your space.
When you work with Kenmark Interiors you can rest assured that we are not simply throwing a shade on your windows. We take a strategic approach, informed by decades of experience in developing solutions for complex challenges, to ensure that your motorized window shades or treatments are harnessing mother natures light and heat in the most energy efficient manner possible.
At Kenmark Interiors we pride ourselves on collaborating with our clients, building lasting partnerships and developing innovative solutions. We look forward to working with you on your next motorized shade or window treatment project. Contact us today to learn more.
One example of our strategic and innovative approach to motorized shades is the Rolex Building project in Dallas, Texas. Keep Reading to Learn more.
The Rolex Building Window Treatment Project, Dallas, Texas

The new Rolex facility located in downtown Dallas was designed by award winning Japanese architect Kengo Kuma. The innovative design of the building included a series of stacked floor plates that stagger and give the appearance of a twisting tower.
When taking on this project, the Kenmark team was focused on providing the staff with the best possible working conditions, including providing the best possible light levels. The seven-story glass structure provides abundant daylight, which also brought a number of environmental challenges— including solar heat gain and glare. Keeping the space cool during the intense Texas summers was a must for the comfort of the Rolex team. These challenges had to be addressed while also keeping Rolex' goal of sustainability in mind.
Working with Lutron engineers, the Kenmark Interiors technicians created a custom programmed automated shading system that seamlessly adjusts the shades throughout the day based on the sun's position as well as exterior conditions, maximizing the natural daylight, reducing glare, increasing occupant comfort, productivity, and energy savings. The Kenmark Interiors project team used a proprietary software to generate the entire specification for the project, creating a submittal package including load schedules, bill of materials, wiring diagrams, one-lines and a sequence of operations.
To learn more about this project please find the complete case study here or contact a member of our team to learn more.
Kenmark Interiors Motorized Shades